Selling Homes, Not Houses
Allie is a life-long Marylander and lives in Frederick, but loves to travel and has visited over 10 countries, including studying abroad in Spain and China. Her extensive background in teaching, focusing on Spanish, Chinese, and English as a second language, paired with being multilingual (English, Spanish, Chinese) are amazing assets and help her communicate with and educate her clients in the real estate process.
Allie's dynamic personality, passion for real estate & exceptional negotiation skills allow her to provide a high level of service and build solid relationships with her clients. Whether you are looking to sell your home, buy a new home or both, Allie will deliver results!
Allie ha vivido en Maryland por toda la vida y vive en Frederick, pero le encanta viajar y ha visitado más de 10 países, y estudió en el extranjero en España y China. Su fondo extensivo en enseñar, especialmente el español, el chino, y el inglés como idioma extranjero, y sus habilidades como persona trilingüe (el inglés, el español, y el chino) son unas ventajas increíbles para ayudarle a comunicar y educar a sus cliente en el proceso de bienes raíces.
La personalidad dinámica de Allie, su pasión verdadera por los bienes raíces, y sus habilidades excepcionales de negociar la ayudan a siempre prestar un alto nivel de servicio y formar relaciones fijas con sus clientes. Si quieres vender tu casa, comprar una nueva, o hacer las dos cosas, Allie entrega buenos resultados!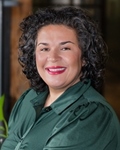 Allie Vasquez
Vasquez Team - Realtor, Team Leader
Charis Realty Group


Proudly located in Maryland & West Virginia




Phone: 304-239-0443

,
Phone:

301-831-5099 x121