Selling Homes, Not Houses
April West is a proud native of Montgomery County, MD. She loves being just a metro ride from the nation's capital, minutes from the country, and only a few hours from the beach. For the love of the area, she has remained local and now resides in the lovely hip-storic City of Frederick.
April attended the University of Maryland and graduated with a Bachelor's Degree in Marketing from The Robert H. Smith School of Business in 2012.
April's fascination for marketing and technology led her to a position as a Search Engine Marketing and Digital Media Specialist with a large marketing firm. April assisted her clients with determining their needs and formulating creative solutions that are both effective and efficient. She realized that, although she was assisting clients with their business needs, she was not impacting them on a personal level. April left her position to pursue a career in real estate as it allowed her the opportunity to make a change in the lives of her clients. April's experience, personal touch, and knowledge of the area, make her a strong and relatable advocate for her clients. She is very personable and shares in her client's excitement as the 'big search' becomes the 'big find'.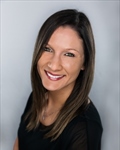 April West
Realtor
Charis Realty Group


Proudly located in Maryland & West Virginia




Phone: 304-239-0443

,
Phone:

301-831-5099 x158